Content
Awards and Recognitions
Our Challenges
Glossary
Content
For Celsia, the value chain and sustainable sourcing are important because they allow us to be aligned with our Corporate Strategy, which seeks responsible, profitable and respectful growth.
GRI (3-3) We leverage the Celsia PermaneC Sustainability Policy to incorporate environmental, social, and Corporate-Governance variables into our chain and, thus, deliver high-value solutions to the Organization that meet the needs and expectations of the different teams.
As our allied suppliers and a fundamental part of our value chain, we work together and aligned so that this Stakeholder incorporates good practices into their processes, with a sustainable approach that adds value to the business ecosystem.
GRI (3-3) Supplier Management is one of the pillars of our Organization, which allows us to build sustainable growth over time, which seeks to guarantee the sustainability of our supply chain, with timely Risk Management that may arise, through the continuous improvement of administrative, commercial, technical, environmental, productive and financial competencies, ensuring the promotion and respect of Human Rights.
0
of which 92% were local.
In 2022, we had contractual relationships with 2,949 suppliers,
Through our management around the value chain and sustainable sourcing, we generate actions such as:
We manage the following impacts: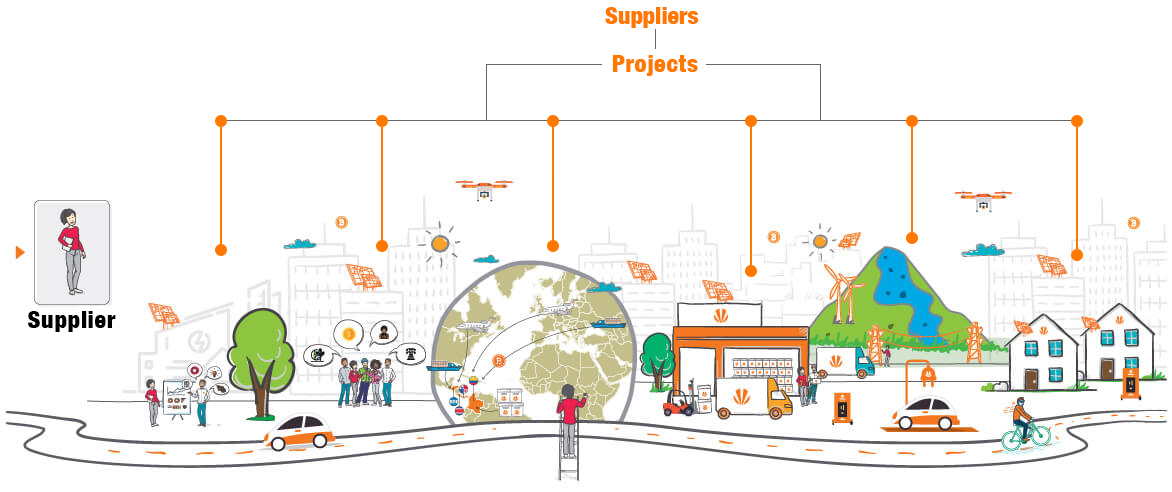 We present the pillars of Sourcing 4.0 (Digital Transformation) and Sustainable Sourcing:
For Celsia, it is essential to contribute to the growth of local suppliers and encourage the development of the economy of each country where we are present.
Risk Identification and Management in the Supply Chain
GRI (414-2) (409-1) (408-1) (407-1) (308-2) At Celsia, we identify risks based on standard comprehensive-management methodologies. The team dedicated to the subject deploys the methodology for the entire Company with Transversal Probability and Impact Matrices, and there is a Risk Manager in each of Celsia's teams.
For the supply chain, the Risk-Identification Process is carried out annually, with quarterly monitoring of the Action Plans, where a Risk- and Opportunity-Identification and Qualification Workshop is conducted for each of the processes.
As a result of this task, a report is generated for each of the processes and six Risk Matrices are drawn up, in which Action Plans are subsequently identified, in order to reduce the probability or impact of each risk. Likewise, the set of controls, treatment measures and the impact on environmental, social and Corporate-Governance variables are evaluated.
Critical suppliers are those that provide a high volume of goods or services, critical components or that are not substitutable.
For Celsia, a high sustainability risk is one that can affect the development and achievement of the Company's Strategy Objectives. These include: ESG threats, weaknesses and specific situations to which the Company is exposed. A lack of risk orientation in the supply chain may limit Celsia's ability to obtain long-term sustainable and reliable benefits for all its Stakeholders.
Sustainability in the Supply Chain
Priorities in the Supply-Chain Management Strategy
GRI (414-2; 409-1; 408-1; 407-1; 308-2)
At Celsia, we have a Supplier-Selection Process that includes the evaluation of the offers that participate in a negotiation process, in which the weight of the ESG variables is 30%. Also included are:
The Environmental, Social and Governance (ESG) criteria that we take into account for the qualification of our suppliers are:
This applies to new and existing suppliers.
ESG Objectives in Supply-Chain Management
Principal Results in 2022
GRI (3-3)
Among our lessons learned, we highlight the ability to adapt through the development of strategies that allow us to anticipate regulatory, political and social changes in the country and the volatility of global markets.
Awards and Recognitions
Our Challenges
Glossary